CLICK the Medalion  TO SEE CURRENT ROOM AVAILABILITY AND RATES: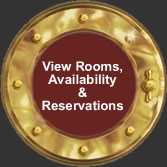 Rates are Seasonal, and Holiday driven. They are also tailored to the Room type.  All rates are subject to  City Transient Occupancy Tax of 10% and a City + County BID Assessment of 3%. These are added on top of the Room Rate.  In addition to the room rate, if you bring an animal there may be a cleaning Assessment fee of $30 per stay. The rates reflected below are subject to change and do not include any discounts. We offer loads of Discounts and Special Deals that will save you $$$$:
Off  Season (Dec thru March)    weekdays $92 – $135            weekends  $129 – $165
Spring ( April thru May)             weekdays $99 – $139            weekends $139 –  $189
Season (June thru August)        weekdays $129.99 – $169     weekends $179.99 – $239.99
Fall (September/October)        weekends $119. – $139.99     weekends  $129.99 – $179.99

Call us for group discounts and event bookings.

Click here to view our individual rooms, availability and make reservations.