CLICK the Medalion  TO SEE CURRENT ROOM AVAILABILITY AND RATES: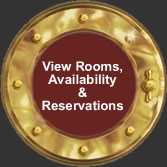 Rates are Seasonal, and Holiday driven. They are also tailored to the Room type.  All rates are subject to  City Transient Occupancy Tax of 10% and a City + City BID Assessment of 3% + County TMD of 1% = a total of 14%. These assessments are added on top of the Room Rate.  In addition to the room rate, if you bring an animal there is a cleaning Assessment fee of $30 per stay for up to 2 animals.
The rates reflected below are subject to change and do not reflect higher rates during holidays and special events. They also do not reflect  discounts. We offer loads of Discounts throughout the year so check our specials page that will save you $$$$. Also the range is because we have different room types.
Off  Season (Dec thru March)    weekdays $99 – $149.99            weekends  $149 – $189
Spring ( April thru May)             weekdays $109 – $159            weekends $126 –  $199
Season (June thru August)        weekdays $139 – $189     weekends $189.99 – $259
Fall (September/October)        weekends $129- $179.99     weekends  $169.99 – $229
Apply our discounts to these rates and see what you save!  Go to our Specials Page.
Call us for group discounts and event bookings. Read our cancellation policies.

Click here to view our individual rooms, availability and make reservations.