AFTER YOU READ ALL OF THIS – STILL GOT QUESTIONS? JUST CALL US AT 805. 772-5607
CHECK IN : 3pm
CHECK OUT: 11am
Rest assure that the Bayfront Inn is taking COVID 19 seriously.  We pay attention to the cleanliness of our rooms using antibacterial cleaning products and wipes.  Our staff wear plastic gloves and masks ( and we ask that you do the same at check-in ). We have antibacterial gel for your use at the front desk.  The outdoor furniture is treated the same way as the indoor furniture.  At this time, we do NOT offer an open Galley and do not serve a light continental breakfast. (we have adjusted our rates accordingly) .Yes, you are welcomed to your room with 2 bottles of water and wrapped taffy.  For ice, simply come to the front desk and we will give you a sealed bag of ice for your room.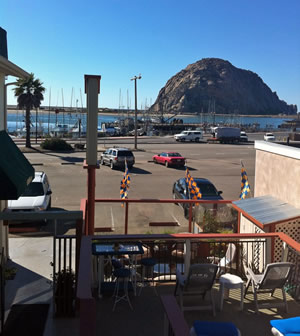 Excellent location, comfortable beds, upgraded linens, and wonderful guest amenities including wireless internet with front desk access assistance for the hearing and visual impaired using guest's device.
Originally built in 1962 our little Mom&Pop 2 story walk up Motel represents an authentic Morro Bay motel-hotel stay and is on the waterfront. Our second story rooms are reached via one flight of stairs ( no elevator).
2 rooms ADA modified: Because of the age of our building and because it is financially not feasible to modify the concrete structure, we have cannot expand our room sizes. We are not considered 100% ADA compliant because we modified what we financially and structurally could in 2 room types; downstairs; a standard size room #8 and a larger room #9. Except for the step up shower, these rooms have been modified per ADA inspector requirements. Call us at 805.772-5607 to discuss your personal needs prior to booking one of our ADA modified rooms.
  All bathrooms offer grab bars near toilet and shower.  Room sizes may not be able to accommodate wheel chairs or walkers.
"Small rooms" if you compare the size of our rooms to  new construction or franchise hotel properties our rooms appear small.  The sizes of our rooms are typical for retro motels of the 1960s era.  Our standard rooms are compact (appx 144 s/f ), providing a closet space, and  simple shower only bathrooms. We do offer 4 larger rooms that we identify as "delux". The rooms are minimally furnished.
The Cleanliness of our rooms cannot be beat!
Morro Bay's seaside weather is very moderate year-round but for some days you may need to use the ceiling and window fans. No air conditioning.  Our heaters are radiant energy saving wall heaters.
Usually…We serve our daily continental breakfast in our "Galley". Here you will also a microwave, toaster, and our ice machine. It is opened to guests 20 hours per day.
Check out the Estero Bay and Morro Rock views from most of our 2nd floor rooms. If your rooms doesn't offer a view don't fret.  The Bayfront Inn offers many common areas for guests to lounge, enjoy a glass of wine, and observe our wonderful sunsets.

View from rooms 10, 11, 12, 14, 15, 16, and 20.