Four of our rooms are larger than our Standard Rooms.  All 4 are unique in their contents and original art. All of these have seating areas in the rooms.  Shower only bathrooms.  2 person Occupancy that includes children over 3.  Book now by clicking the Medallion to the right.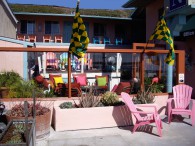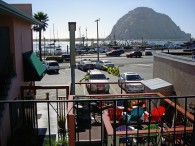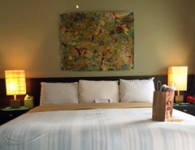 Room #9 (Pet Friendly ) offers 1 King Bed, a seating area, and desk. It is on the ground floor facing the courtyard.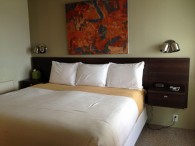 Room #10 (NOT Pet Friendly) is upstairs on the north end of the building. It offers one King bed, a seating area and a desk. There is a view.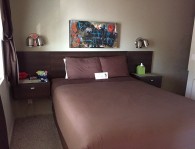 Room #19 (Pet Friendly) is upstairs. The room overlooks the Patio areas. This room offers 1 Queen Bed. It offers a larger closet.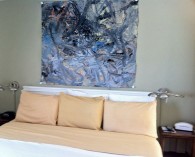 Room #20 (NOT Pet Friendly.) is upstairs and faces the bay. It offers one King Bed. It faces the Bay on the 2nd Floor.
For more individual room pictures simply click on the Medallion above.
Bath Amenities are Eco Friendly and include Shampoo, Lotion, Conditioner, and Soap.